Monday, May 1 - Wednesday, May 31, 12:00 am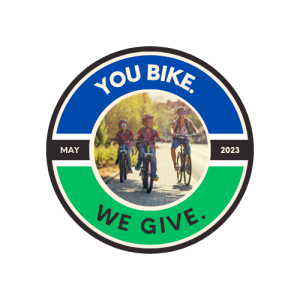 #YouBikeWeGive – Bike Month!
The month-long program encourages everyone to leave their cars at home just once and ride their bike instead. Biking to work, to school, to run an errand, participating in a bike ride or event, and even teaching someone to ride a bike counts!
To participate, click on the button below and take the pledge to ride your bike. For every pledge we receive, we will donate $1 to Girls in Gear, a non-profit that provides an eight-week program for young girls ages 6 to 16 who want to build confidence on and off their bikes.
So this May, your one bike ride can make a big impact for you,
your community, and the young girls at Girls in Gear.