George Ververides Outstanding Community Leadership Award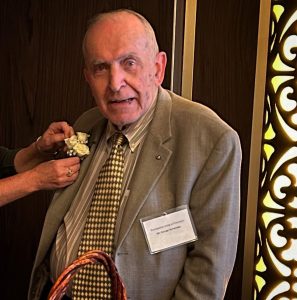 In honor of its 35th Anniversary, KMM established the George Ververides Community Leadership Award.  The award honors the legacy of George Ververides, Middlesex County Director of Planning from 1968-2020 and KMM founding member.  As director of planning for 52 years, Ververides, recently retired, laid the foundation and oversaw the development of transportation, bicycle, and pedestrian safety infrastructure projects that impact the people of Middlesex County today and tomorrow.
This award is given to an individual or organization in recognition of their commitment to the community and inspired leadership in transportation. This recipient should embody KMM's mission and George's lifelong dedication to improving transportation through acts that enhance safety, provide education, and improve mobility. The award is presented at KMM's Annual Meeting which is held in May.
2023 Award Recipient
Metuchen Borough Council President Jason Delia is the first recipient of the George Ververides Community Leadership Award.  Since his election in 2019, Delia has focused on improving mobility and safety in his community. Working with Middlesex County, Delia reduced the speed limits on County roadways frequently used by pedestrians.  He championed the NJ Safe Passing Law in 2021 and recently established a bike lane along Grove & Eggert Ave in Metuchen which is expected to be implemented in the Fall 2023.
"Given the incredible impact Mr. Ververides has had on Middlesex County, I am truly humbled to receive this award.  Now, I feel an even greater responsibility to uphold the values and principles of community service that Mr. Ververides embodied. I extend my sincere gratitude to Keep Middlesex Moving for this honor. On behalf of Metuchen, I am grateful for KMM's support and partnership," said Delia.