Wednesday, February 9, 2:00 pm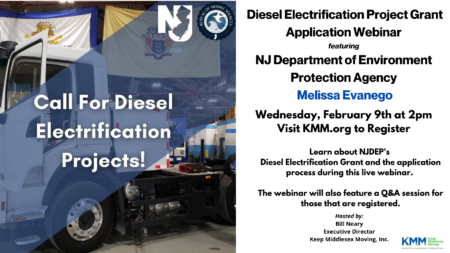 In a continuing effort to reduce diesel emissions and mitigate climate change, the New Jersey Department of Environmental Protection (NJDEP) is offering another round of funding to replace diesel vehicles with electric. Leveraging proceeds from New Jersey's participation in the Regional Green House Gas Initiative (RGGI), this solicitation is for local government vehicle electrification projects in environmental justice communities. NJDEP estimates funding 12-16 projects.
Join us next week for a webinar covering both the grant opportunity and the application process. The webinar will also be live-streamed on the
KMM Facebook page
and will be recorded.
Register today: http://p1.pagewiz.net/KMMWebinar