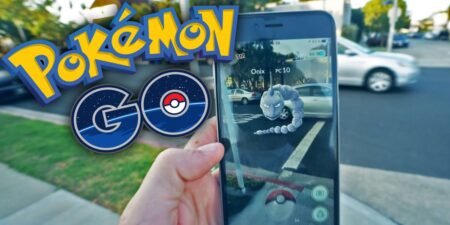 Have you recently noticed gaggles of people walking in groups with their attention focused on the phones in their hand? They seem to be looking for something, find it, and then continue on their way – all without once looking up from their phones? Well, we have answers for you. It's called Pokemon GO and although it's fun to play, it's a pedestrian safety hazard!
Pokemon GO is an interactive game where users capture Pokemon characters in real-time and actual locations.  If you are like me (40+ years old) this makes absolutely no sense, right?  But bear with me.  The game encourages users to walk around their neighborhoods.  With eyes glued to their handheld device, the screen converts to a camera screen and just feet ahead of them lies a Pokemon character waiting for capture.  The farther and longer they walk, the more characters they can capture.  And the more characters they capture, the more points and levels they earn.
So what's the harm in this game?  People of all ages are walking more and spending more time in their community. Seems like a terrific idea, right?   After walking close to 12,000K steps following my children around our neighborhood this weekend, the safety issues are plentiful.
Sure ,it was wonderful that my children wanted to walk around town with me, but by the end of our adventure, I was ready to put them on leashes.   They were walking into other pedestrians (some of whom were also playing this game), walking too closely to curbs and nicely manicured bushes and plants, and even walking into crosswalks!  I spent the better part of the walk yelling commands.    It was an "eye" opening experience (pun totally intended)!
As a parent and a from a safety standpoint, I share with you these 3 tips to make your Pokemon GO experience safe.
Although the app suggests its users be 10 years old,  if your children are under the age of 15, I recommend the app be downloaded to YOUR phone. That way, you can join them on their adventure.
Designate one person to hold the phone and the others to navigate the path so as to avoid walking into others, crossing streets without looking, and tripping over uneven sidewalks.
Since the app's release, some users have been lured to secluded places and robbed. Be sure to review the safety features on your profile.  Many features can make the user vulnerable to others finding them since the app is also multiplayer.
The game was just released on July 6, 2016.  Be prepared to see, hear, and learn more about Pokemon GO.  Most importantly, play the game safely and never play the game alone.
photo credit: 9to5mac.com