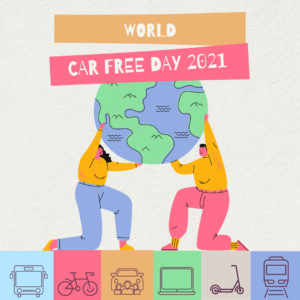 This year, along with Greater Mercer TMA, we are celebrating Car Free Day Reimagined.  In response to COVID-19, many of us have already made changes to our daily commutes.  More folks are walking and biking and many are working on a hybrid schedule.  So this year, we celebrate Car Free and all the changes commuters have made this year.
Over the past 18 months and as a result of going #CarFree, we have seen an increased awareness of walking and cycling infrastructure across both Middlesex & Mercer Counties.  We also experienced better air quality and a high focus on our health and well-being.  Best of all, we find commuters are exploring and supporting their local businesses as a result of the commute change.
As we move ahead, we hope that commuters will maintain a part of their "new commute" methods.  We have witnessed that even the smallest change can make a significant impact.  So this week, we encourage everyone to share how they are commuting to work.
Carpool or Vanpool – snap a photo with your partners!
Take an NJ TRANSIT bus or train – snap a photo of your favorite spot along the commute!
Riding your bike or walking to work or school – share with us how many miles you biked or walked!
Are you still working from home? Share with us a photo of your workspace or what you like most about working from home!
You've Reimagined your city car-free!
  Let's keep that going strong.
Email photos to cfowler@kmm.org or tag us #goCarFreeNJ on social media.  Also,
take the pledge
!