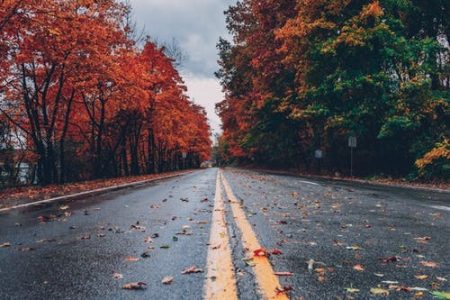 There's nothing more beautiful than an evening drive during the fall season, but this season brings more hazards for drivers than you may think. Being aware of the potential dangers while on the road can help keep you safe and prevent accidents.
The changing colors and falling leaves are what autumn is all about. However, as leaves begin to fall they litter the roads, making streets slick while obscuring your vision. Traffic lines, street signs, and other pavement markings become hard to see. Be aware of limitations in your visibility and slow down if you can't see well.
With the days getting shorter and more storms approaching, you could find yourself commuting to or from work in the dark. This makes it more difficult to see children playing or pedestrians walking and biking. Using dimmed headlights in bad weather or low visibility is a good way to stay seen while on the roads.  Children also love to play in piles of leaves, so use extra caution whenever you see leaves piled at curbside.
Together, we are all responsible – as drivers and pedestrians, to make sharing the roads safe and efficient.