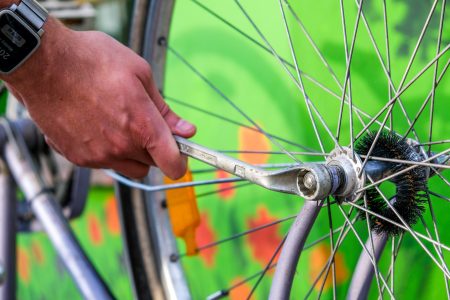 It's important for all members of the family to stay physically active. With the freedom to exercise in our neighborhoods, we can still enjoy the outdoors by walking, running, and riding bicycles. With fewer cars on the road, this could be the safest time to ride. In New York and other cities, people are choosing bicycles over buses and subway cars to maintain safe physical distance from other commuters. New Jersey recognizes bicycles as a healthy transportation option and has declared bicycle shops are an essential resource during this public health crisis.
Keep Middlesex Moving has reached out to the bike shops in, and around, Middlesex County to learn how they are continuing to serve their communities. Like the restaurants, supermarkets, and other establishments, local bike shops have tailored their operations to safely provide services while maintaining the precautions of 6 feet between their staff and their customers.
Bicycle repair and maintenance services are offered at each of our local shops. You can expect a shop to have curbside dropoff and pickup. Most stores are operating on an adjusted schedule, and business continues to ramp up as the weather continues to improve. Each store's volume varies. Depending on the type of service you need on your bike, the wait can range from 1 to 14 days.
All of the shops offer retail sales online and over the phone. Customers can still purchase a bicycle, components, and accessories and arrange curbside pickup, however, many have closed their showrooms and are not offering test rides. It's a good idea to see what's offered at the shop via their website and to contact the shop directly with any questions.
To assist you and all of our local bike shops, KMM has compiled a Database of the shops in and around  Middlesex County. This resource provides each store's modified hours, contact information, and retail operations.
Click here for the shops mapped.