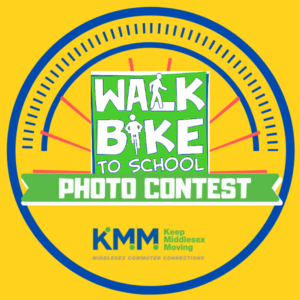 It's that time of year to gear up for the annual Middlesex County Walk to School Day!
Join us and your neighboring communities in teaching children in Middlesex County the importance of walking safely, and the benefits of walking as a means to get places, exercise, and help the environment.
Last year, KMM helped organize successful walks in 28 Middlesex County schools and over 6,000 children participated.  I encourage you to sponsor a Walk to School Day on any day in October or on Wednesday, October 2nd for International Walk to School Day.
This October, share a photo from your journey to school. Think of the wonders of your neighborhood and show us what your favorite part of walking to school in October!
The winner will receive a Safe Routes to School Prize Pack, which includes a bike bell, front/rear light set, and a helmet.
The winner's homeroom class will receive, stickers, pencils, and glow wristbands.
Contest open to Fourth Grade through Eighth Grade students in Middlesex County.
One entry per student.
Original photographs must be submitted by emailing them at programs@kmm.org.
Entries become the property of Keep Middlesex Moving.
Entries must be submitted before November 1, 2020.