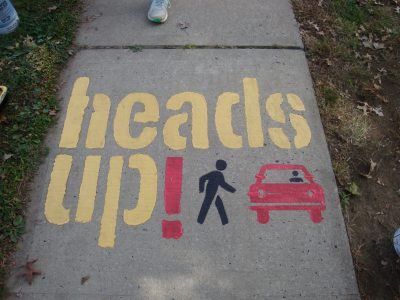 Distracted Walking is a growing problem all over the world. Each year, more and more people are injured while walking because of texting, talking or listening to music while on their cell phones. According to the Governors Highway Safety Association, there were nearly 6,000 pedestrian fatalities in 2017 as a result of distracted walking. How do we stop this number from growing?
Not looking ahead of you can cause you to trip, fall, or even end up in the hospital with serious injuries. Staying aware of your surroundings, big or small, inside or outside, can help prevent accidents from occurring.
Many pedestrians are losing focus on things happening around them and are putting their safety as well as the safety of others at risk because of being on their cell phones. Too many pedestrians rely on cars stopping for them, which causes the number of cell phone use while walking to go up. It is wrong for pedestrians to assume that motorists will always hear and see them. Too many times motorists are not aware of pedestrians approaching and before anyone realizes, it could be too late.
The simple solution is for pedestrians to stop using phones while walking, anytime – anywhere!  Did you know over half of the distracted walking injuries occur in our own homes?  We need to stay aware of our surroundings at all times.
Don't become another statistic, instead, put your phone down and keep your head up!