As we get ready to celebrate Independence Day, many of us plan to attend fireworks displays, host or attend barbecues, or perhaps enjoy some fun in the water. No matter how or where you celebrate, KMM wants you to have a fun-filled and safe holiday!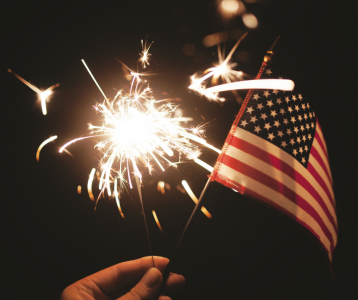 Heading to a public firework display?  You should stay at least 500 feet away from the show and always be aware of your surroundings in case of any fireworks that may have been misfired.
Hosting or attending a barbecue?  Be sure to always have someone supervising the grill when heating up or in use. Keeping the grill out in the open is the best way to keep everyone safe since there is less likely of a chance for other objects to catch fire. If you're the one doing the grilling, make sure you have clean hands before touching any food.
Hanging by the pool or taking a trip to the beach on your agenda?  Make sure you apply sunscreen prior to being exposed to the sun and reapply when needed. The temperature is always rising so drink water or eat fruits to stay hydrated. Swim sober and never alone. Having a friend with you in case of an emergency is the safest way to swim.
No matter what you do this Fourth of July, remember that the roads will be crowded. Be mindful of others, watch your speed, don't use your cell phone while driving and most importantly, do not drink and drive.
Whatever your family tradition is on the Fourth of July, have fun, stay safe and celebrate America's birthday!